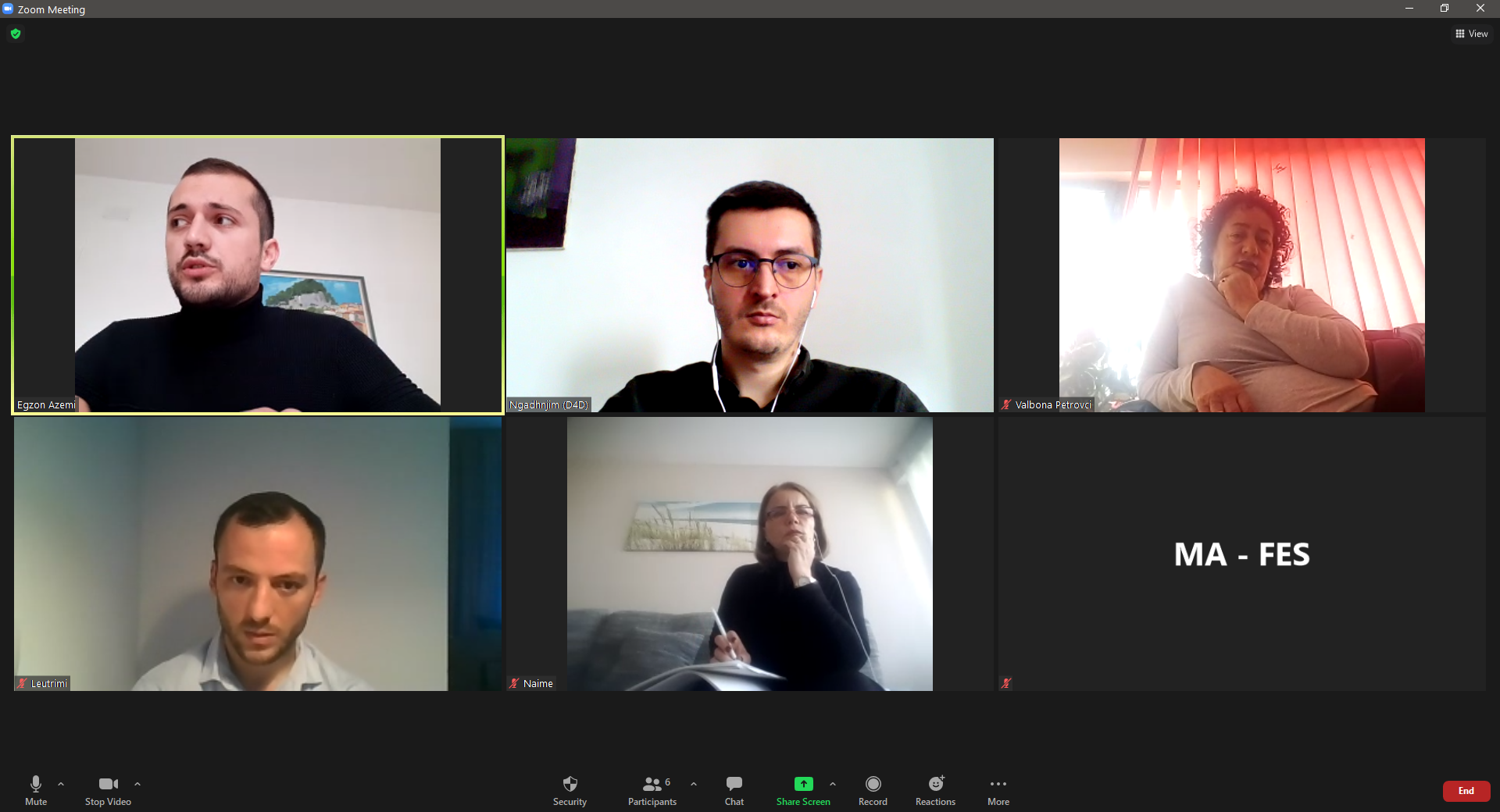 Democracy for Development has organized a virtual meeting with members of the Municipal Assembly of Prishtina to present the online informational platform about good governance www.goodgovernace.info, Kosovo We Want program, as well as discuss more about three key topics: a) Transparency and Accountability from Municipality of Prishtina, b) Citizen inclusion in policy- and decision- making processes, and c) Functioning of the Municipal Assembly of Prishtina and the cooperation between political parties representatives within the Assembly of Prishtina.
During the discussion about transparency and accountability, political party representatives at the Municipal Assembly of Prishtina emphasized that transparency is at a satisfying level, where all the contracts with economic operators are published on the online portals of the municipality, but there is lack of accountability by the Municipality of Prishtina. Furthermore, access to public documents is quite easy and all the legal deadlines have been respected until now by the municipal officials whenever a request for such documents was placed by municipal councilors. According to municipal councilors, a reflection of accountability by the Municipality of Prishtina can be seen in the streets of the capital city, where the constructions work done in the road infrastructure have caused a chaos in the traffic and in the daily life of citizens.
As for the citizen inclusion, municipal councilors emphasized that the public hearings organized by the Municipality of Prishtina during the last year have had a small number or no participation of citizens, and according to them the reason for citizens not participating in those meetings has more to do with the fact that the Municipality of Prishtina is not taking into consideration their requests and concerns.
Cooperation between municipal councilors of different political parties is good when at stake are decision that have a direct impact in the daily life of the citizens, emphasized the municipal councilors during the meeting, but many times there were disagreements and irritations that sometimes lead to escalated cursing between each other.
This virtual information session was organized in the framework of "Accountable and transparent local governance" project, as part of the Kosovo we Want program, implemented by Democracy for Development institute, with financial support by Friedrich Ebert Stiftung (FES) in Pristina.