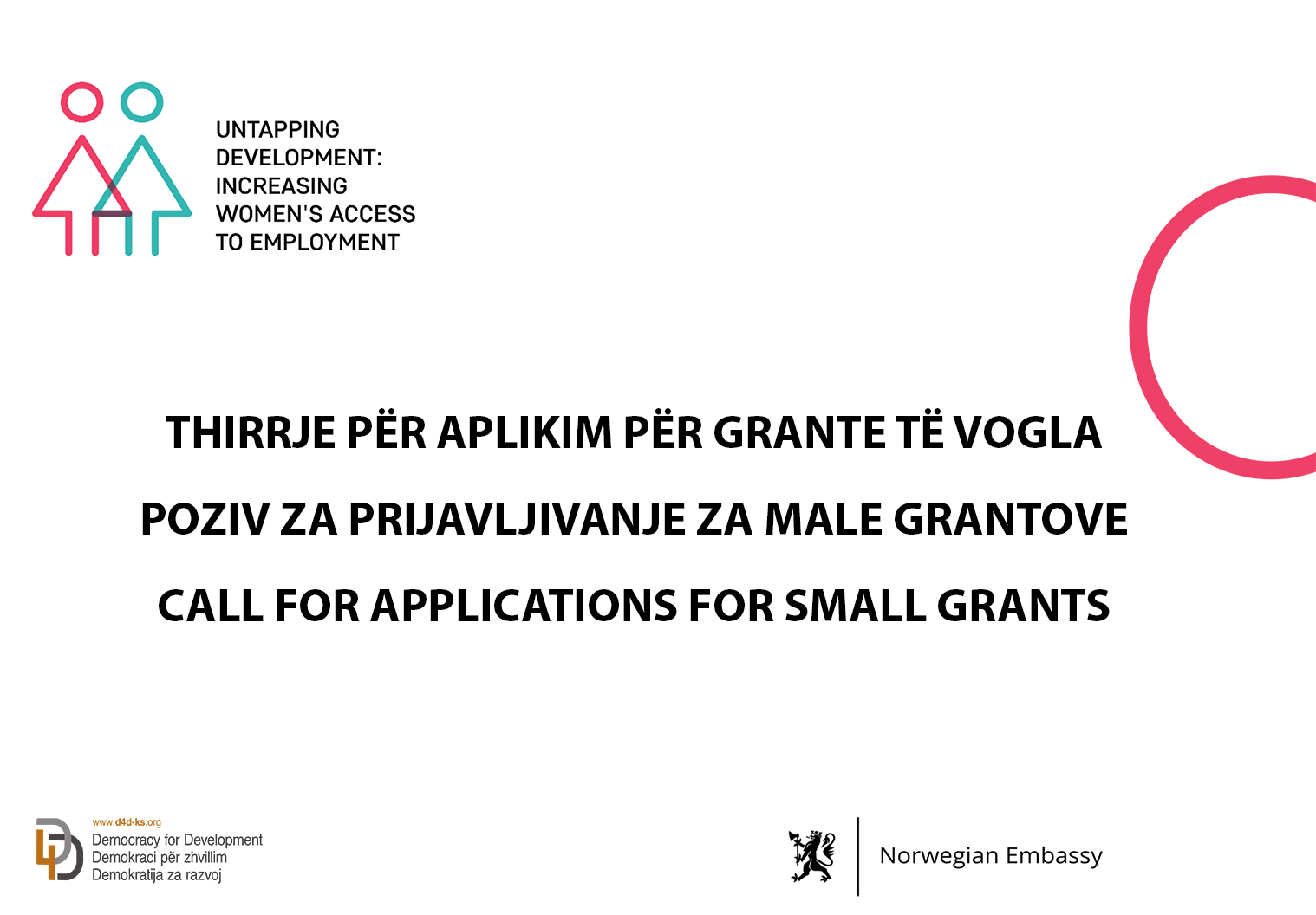 The project "Untapping Development: Increasing Women's Access to Employment" which is implemented thanks to the support of the Royal Norwegian Embassy in Pristina, aims to address the inactivity of women in the labor market and discrimination that continues to be present in Kosovo.
The main objective of the project is to increase women's participation in the labor market through targeted advocacy in an effort to reduce gender discrimination, promote decent work and implement gender-friendly strategies that improve women's participation in the labor market.
LEVELS OF FINANCING
Women's organizations / entities are invited to apply for a EUR 1,000 grant. Please note that the financial support requested should not exceed the maximum grant amount. Administrative expenses should not exceed 5% of the total amount.
APPLICATION DATES
The deadline for application 22 February, 2023, until 17.00. The notice date for the selected organizations / entities is 1st of March, 2023. If you need additional information regarding the call for proposals, please email us at: [email protected] by 17th of February, 2022.
—
POZIV ZA PRIJAVU ZA MALE GRANTOVE
Projekat "Iskorisćavane razvoja: Povečanje pristupa žena zapošljavanju" koji se sprovodi zahvaljujući podršci Kraljevske norveške ambasade u Prištini, ima za cilj da se pozabavi nekreativnošću žena na tržištu rada i diskriminacijom koja je i dalje prisutna na Kosovu.
Glavni cilj projekta je povećanje učešće žena na tržištu rada ciljanim zagovaranjem u nastojanju da se smanji rodna diskriminacija, promoviše dostojanstven rad i primene rodno prihvatljive strategije koje poboljšavaju učešće žena na tržištu rada.
Pozivamo ženske organizacije/subjekte da se prijave za grant od 1.000 evra. Molimo vas imajte na umu da tražena finansijska podrška ne treba da bude veća od maksimalnog iznosa granta. Administrativni troškovi ne smeju da budu veći od 5% ukupnog iznosa.
DATUM ZA PODNOŠENJE PRIJAVE
Poslednji datum za podnošenje prijave je 22 februar 2023. Datum obaveštavanja odabranih organizacija/subjekata je 01 mart, 2023. Pozivamo aplikanti za koje je potrebno pojašnjenje ili su potrebne dodatne informacije u vezi sa pozivom za predloge da nas kontaktiraju na e-mail: [email protected] do 17 februar 2023.