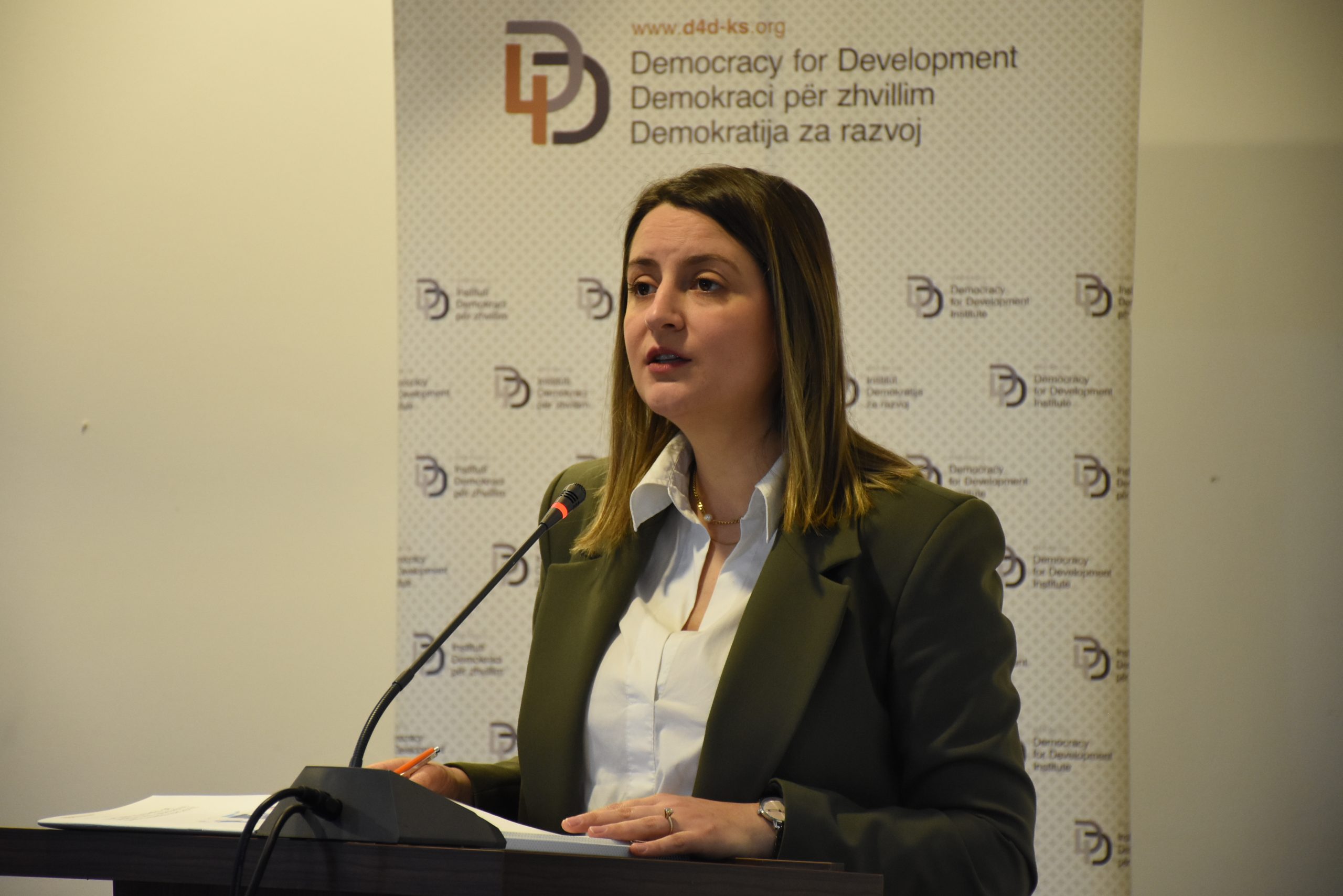 The launch conference of the Annual Report: "Combating sexist and racist hate speech" was held, which presented the main findings from monitoring online portals and social networks that contained hate speech towards marginalized groups of society with a focus on women, the LGBTI+ community, ethnic minorities and persons with disabilities, and sharing such language all over social networks. 
Rezarta Delibashzade Krasniqi, Executive Director at the D4D Institute, has shown that over the course of a year, 20,585 articles were monitored, of which 3,461 news items from the media were analyzed. From this report there are also recommendations for politicians who aim to fight  hate speech on media platforms, among the main recommendations are the development of a Kosovo Code of Practice in accordance with EU standards found in the Strengthened Code of Practice for disinformation (SCP) in 2022 and civil society and media organizations should establish a sustainable and formal dialogue, with the aim of supporting the development of comprehensive legislation on disinformation and fake news.
Edona Krasniqi, Director of the Department for Grants, stated that usually in the media, as well as in social networks, the language that has been used so far to describe the concerns of different groups, such as the LGBTI+ community, persons with disabilities, and women also have a great influence on public opinion. In this case, even in the related report, examples and comments that are seen, they have not left much to be desired. 
Allen Meta, Project Manager has said that one of the recommendations and key points that we are aiming at both institutions and key actors is to do a campaign on media literacy. This recommendation also came out of the meetings we held with journalists and editors.
Niman Hajdari, deputy ombudsman, emphasized the importance of education about human rights because it is a necessity for a democratic society. Education should happen both in middle schools and in universities, because if we do not educate people we have such cases where different social groups are attacked. Moreover,  we must know that freedom of expression is absolute, but our freedom ends where freedom of another begins.
Marigona Shabiu, from YIHR, has shown that when the LGBTI+  community was attacked, there was no public support or public reaction, neither from political parties nor the Prime Minister. Furthermore, there was hate speech even during the pride month towards the pride month or the LGBTI+ community, as well as other communities that live in Kosovo and it is not taken into consideration.
Bajram Ilazi, from Voice of Roma, Ashkali and Egyptian, expressed that members of the Ashkali, Egyptian, and  Roma communities do not interact with the Albanian community, so this suggests that they are prejudiced. And some of the Kosovar portals also promote hate speech using offensive terms. We also have the law against discrimination, but it is not respected, we also have the Association of Journalists of Kosovo who do not deal much with this language used by the media and we as VORAE believe that more work should be done with the media as well as in terms of education and textbooks.
This activity is supported by the program of the Kosovo Civil Society Foundation (KCSF) 'Come to Kosovo', co-financed by the Swiss Agency for Development and Cooperation (SDC), Sweden and the Government of the Grand Duchy of Luxembourg