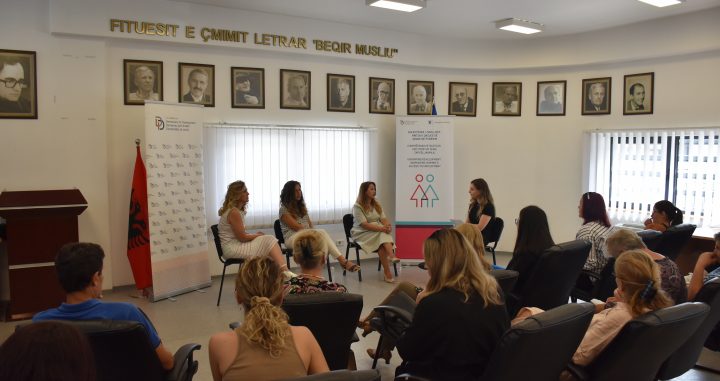 Women entrepreneurs in Gjilan: Facing challenges and opportunities for development, was the topic that was discussed in Tuesday's Salon. Invited to discuss this topic were: Nije Ismaili – Hello School, Arjeta Maka – NGO Gruaja Hijnore, and Lindita Salihu – Officer for Gender Equality in the Municipality of Gjilan. The moderation of the salon was carried out by journalist, Arlinda Kqiku.
Lindita Salihu stated that the capacities of the municipality are too small to improve the challenges faced by women, support for women must also come from the central level, in this case from the government. The work is also challenging, especially for those women who are on maternity leave. But no matter what measures have been taken to improve and facilitate women's lives and their development, they are not enough, but every time changes must be made in laws and policies to facilitate your work and motivate those who deal with business and their ideas. Another thing that emerged from this discussion is that another mechanism that would change the employment situation of women is the number of women. What was also highlighted in this meeting is that in the Municipality of Gjilan, it is observed that a small percentage of women are in decision-making positions, unlike men, this is also shown through annual statistics.
Nije Ismaili, a woman entrepreneur emphasized that the employment of women and their development is important and a priority for her. She has shown that 60 percent of the staff in her work are women, stressing that working with women is as challenging as it is easy because the women in charge are more dedicated and correct at work. During this discussion, it was also considered that for both women and young girls the employment platform has been a very good opportunity for work. But unfortunately, young people are very little interested in working in our country, they think the only option is to leave the country.
Meanwhile, Arjeta Maka has mentioned that the political changes are still welcome, but the government should invest in the informal economy, change fiscal policies for women, and increase the number of inspectors. It was also mentioned that in the Municipality of Gjilan, women have promoted their businesses through the fair, which does not need any expenses. Training for women in business has been held and most of it has been voluntary.