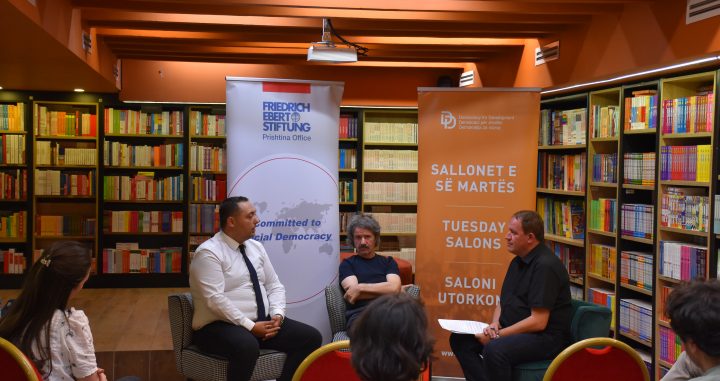 Prishtina: A green and people-friendly city – possibilities and mechanisms?, was the topic that was discussed at the Tuesday Salon, which was held yesterday. Arbër Sadiki, Director of Urbanism from the Municipality of Prishtina, and Lorik Muçaj, founder and Executive Director of Green Art Center in Prishtina, were invited to discuss this topic. Meanwhile, the salon was moderated by Valon Raka, Executive Director at the organization for environmental protection Gjethi.
Arbër Sadiki has expressed that the situation in environmental terms in the city of Pristina is not good. He thinks that space and urbanism need more public debate because this makes it possible to have better results that are impossible to achieve only by the party that claims to have the powers. He shows that from the first day of work, they started with the World Bank a comprehensive analysis of the capital in two directions which are related to the environment such as transport and green belts or ecological quality in a city. These are interrelated, if we do not manage to minimize the unnecessary use of automobiles, it is difficult to have good quality even if we have Pristina with hundreds of thousands of young trees. Based on the work we have done, we are at the stage of concluding the current situation.
Meanwhile, Lorik Muçaj said that in the first place, we as citizens should have well-being and stability and find some time for each of us as individuals, businesses, or organizations to contribute to changes. As for green spaces, we cannot expect that in this enormous development of Pristina, the municipality or the ministry will create new spaces for parks. Each of us can enrich Pristina with greenery. According to him, institutions play a key role since they approve projects and permits. He thinks that if there were more baskets in Pristina, even if there is no fine mechanism that would eventually solve the problem of waste management, Pristina would be cleaner. Thus, more should be done in waste management and recycling should be stimulated. We must all commit together to make a difference.