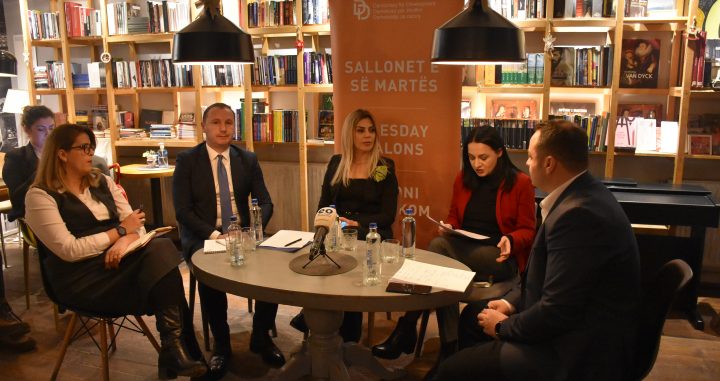 On Tuesday, December 14, the Salon was held on the topic: "Kurti Government during 2021: Achievements and Stagnations".
To talk about the nine months of the Kurti Government, the D4D Institute has invited to discuss: Fitore Pacolli, MP of the Vetëvendosje Movement (LVV); Blerta Deliu-Kodra, Member of the Democratic Party of Kosovo (PDK); Armend Zemaj, MP of the Democratic League of Kosovo (LDK) and Mexhide Demolli-Nimani, Executive Director of FOL. The salon was moderated by Muhamet Hajrullahu, Editor-in-Chief of Telegrafi.
For this nine-month period, MP Fitore Pacolli, as an achievement of the Kurti Government, counted good pandemic management, provision of anti-Covid vaccines, allocation of millions of euros in the Economic Recovery Package, draft laws initiated by this government, saving over 25 million euros, removal of homologation, allowances for expectant mothers and children, pensioners and families with social assistance.
But, the deputy Deliu-Kodra thinks differently. She does not see the Kurti Government as a success, pandemic management because as she has pointed out the high mortality rate. According to her, it has not been possible to offer assistance to businesses, while Kurti called the agenda of the Government Kurti for the approval of the draft laws a failure.
LDK MP Armend Zemaj thinks the same. He has shown that the draft laws which have been proposed by the Kurti Government to be completed this year have been postponed to 2022. Zemaj, among other things, has mentioned the report with the media as a stalemate of this government, emphasizing that it is not transparent.
Whereas Mexhide Demolli-Nimani from the civil society has shown that during the monitoring of the works of the Kurti Government for the period March-September 2021 Out of 345 activities that were in total, 121 were realized, 28 remained unrealized and 196 were in process.