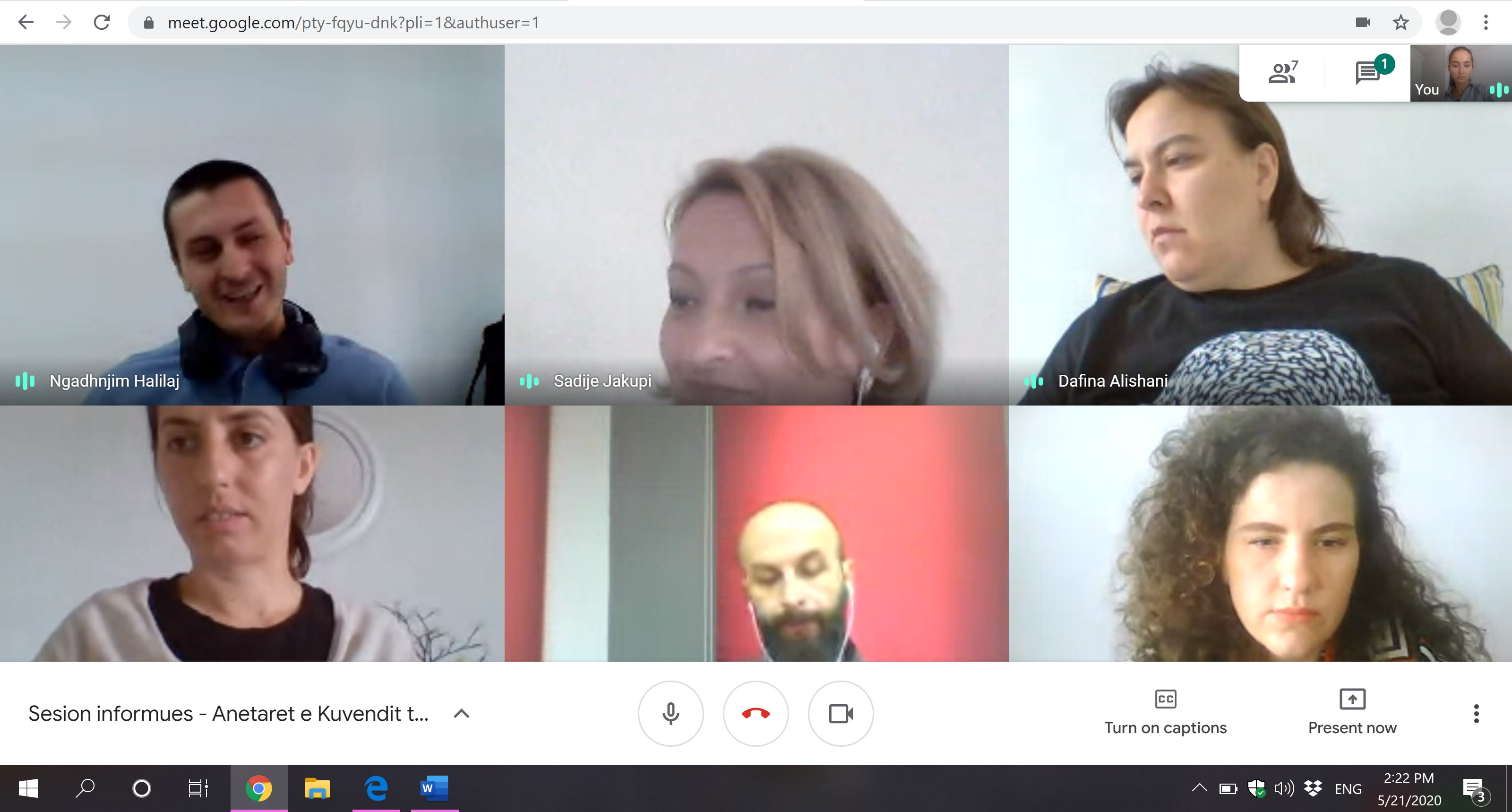 Democracy for Development has organized a virtual meeting with members of the Municipal Assembly of Prizren to present the online informational platform about good governance www.goodgovernace.info, Kosovo We Want program, as well as discuss more about three key topics: a) Transparency and Accountability from Municipality of Prizren, b) Citizen inclusion in policy- and decision- making processes, and c) Functioning of the Municipal Assembly of Prizren and the cooperation between political parties representatives within the Assembly of Prizren.
During the part of discussion about transparency and accountability, it was emphasized that the Municipality in general has been transparent and accountable in the last 12 months, although there have been cases when the executive has delayed or didn't reply at all to the inquiries or questions sent by the members of the Municipal Assembly. Access to public documents has been easy and without major issues, and the executive has respected the legal deadlines to respond to such inquiries submitted by the municipal councilors present at the meeting. Nonetheless, there are still issues and requests that have not been addressed by the executive, which have risen due to the pandemic situation in the whole country.
As for the public consultations and hearings from the Municipality of Prizren, the participants emphasize that in this regard the Municipality is a bit behind. The Municipality has organized two public hearings, which are obligatory with the local self-governance law in force, but due to the vast number of topics discussed in those meetings, the interest of citizens to participate in them has been low or nonexistent. Participants of the meeting emphasized that in the past, when such public meetings have been held with specific topics, citizens have shown greater interest to participate and present their requests and concerns. Thus, as a recommendation from the meeting participants was for the Municipality to increase the number of public consultations and hearings with specific topics in order to increase the citizen interest for participation and to include them in policy- and decision- making processes.
About the functioning of Municipal Assembly and the inter-political party cooperation between members of Municipal Assembly of Prizren, the participants had mostly positive remarks, especially in cases in the interest of citizens' well-being, which they represent. In comparison to other Municipalities, members of the Assembly of Prizren declared that they do not have the issue with the "numbers" phenomenon and that in the assembly sessions everyone has the opportunity to discuss the topics of the agenda, and there are no pressure to vote agendas that are of interest to governing political parties or individuals.
This virtual information session was organized in the framework of "Accountable and transparent local governance" project, as part of the Kosovo we Want program, implemented by Democracy for Development institute, with financial support by Friedrich Ebert Stiftung (FES) in Pristina.