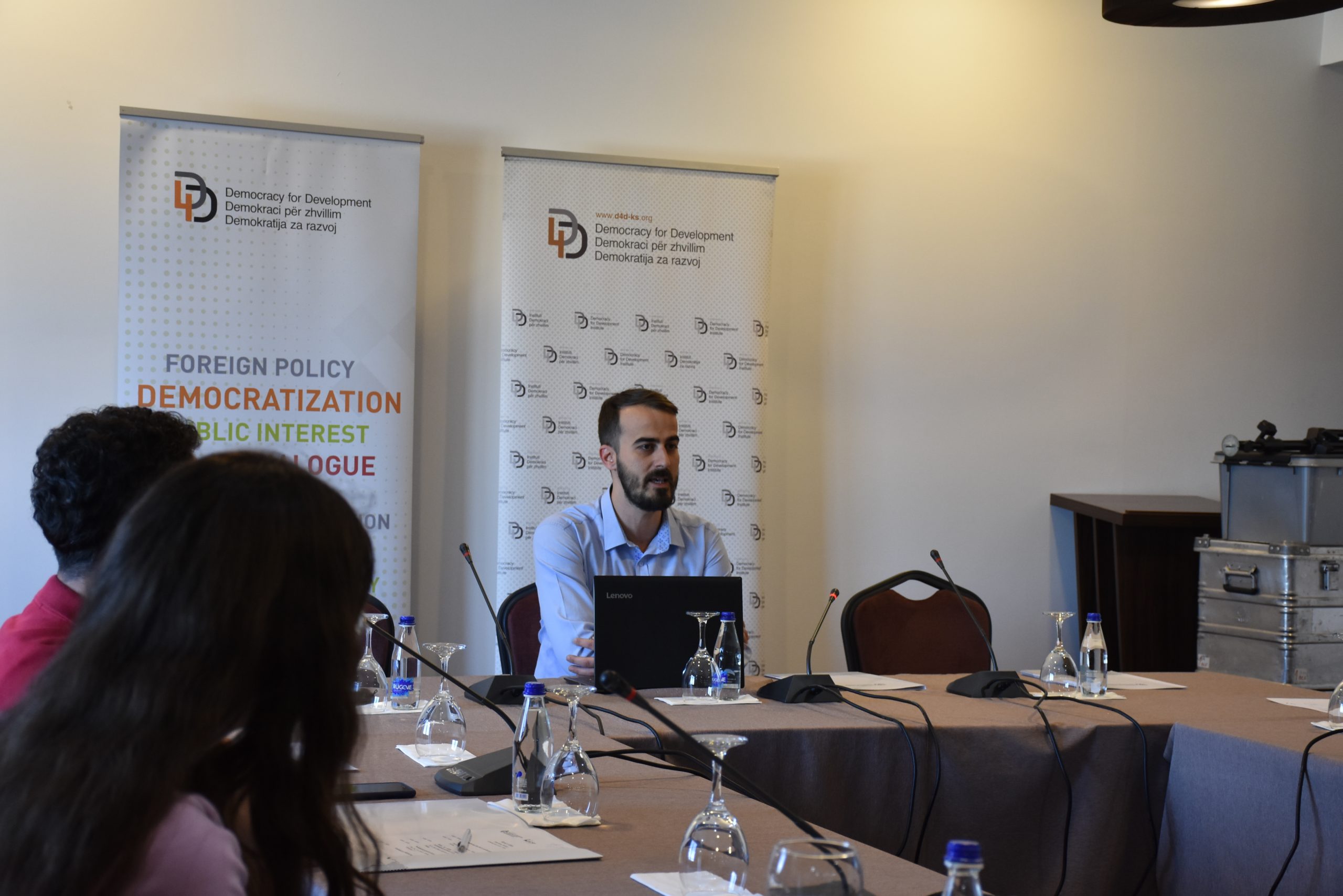 The D4D Institute, during 13.07.2022, held a one-day training on the prevention of sexist and racist hate speech with journalists and editors. Participants in this workshop included editors and journalists from several Kosovar portals and media, as well as local media.
Lecturers in this training were Dr. sc. Dren Gërguri, Lecturer in the Department of Journalism at the Faculty of Philology, held the first part of the training where he lectured on the ethics of journalism with a focus on preventing hate speech and Prof. ass. Dr. Remzie Shahini – Hoxhaj, lecturer in the Department of Journalism, who held the second part of the training where the prevention of sexist and racist language in reporting was discussed.
Through this training, D4D seeks to raise the knowledge of journalists and editors on the prevention of sexist and racist hate speech. D4D aims to help citizens be less exposed to such language and less likely to experience such issues by educating journalists and media editors on the use of sexist and racist language.
Allen Meta, Project Manager at the D4D Institute, has shown that he is working on monitoring portals and social networks where hate speech dominates, in which groups of society it is more open, whether it be women's groups, ethnic groups, LGBTQ+, or even people with disabilities. He has shown that within the scope of this project, the purpose of this training is to work together with journalists to prevent these comments that are made against public figures in various media portals in Kosovo.
Meanwhile, Dren Gërguri, lecturer at the Faculty of Philology, Department of Journalism, said that journalists should be exclusively more careful than other people, because they observe and write for public figures. During the lecture in the training, Gërguri emphasized that news portals most of the time post irrelevant and exaggerated news. Portals use irrelevant information compared to what matters, and they should have a greater focus on the larger issues that concern citizens and be posted in the media.
Meanwhile, Remzie Shahini Hoxhaj, also a legislator in the Department, has spoken about the language used by portals and the media towards women MPs and politicians, as well as the illustration of the news that is sent to them. She has shown that in cooperation with the Independent Media Commission, they have monitored the local elections in Kosovo and emphasized that during this monitoring, 7 of the 8 monitored debates did not have women invited to the show, which according to her, this is not a good phenomenon of Kosovar media.
At the end of the training, it was discussed that the media in Kosovo should have self-control and not publish news that has content of information disorder and news that contain hateful, sexist, and racist language and in which many portals have a vast presence of this type of language.
This activity is supported by the Kosovo Foundation for Civil Society (KCSF), program 'EJA Kosovo', co-financed by the Swiss Agency for Development and Cooperation (SDC), Sweden, and the Government of the Grand Duchy of Luxembourg