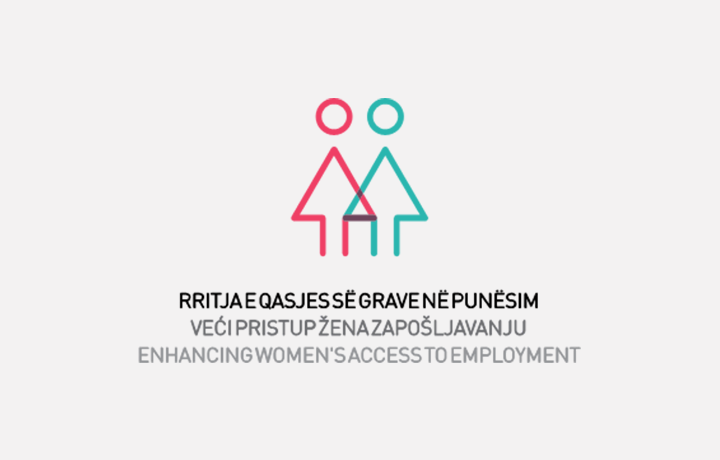 APPLICATION PERIOD HAS ENDED!
---
"Enhancing women's access to employment" project aims to address women's inactivity in the labour market in Kosovo and Albania. The overarching objective of the project is to increase women participation in the labour market through targeted advocacy in fighting gender discrimination, promoting decent jobs and implementing gender-friendly strategies that improve the presence of women in the labour market.
Proposed duration: 2 months
Funding levels: The requested financial support should not exceed the amount of 1,600 EUR. Administrative costs should not exceed the 5% of the total grant amount.
DOCUMENTS TO BE SUBMITTED
A short project proposal, describing the key goals and objectives of the project and ultimate outcomes;
A proposed budget that will be used effectively in line with the theme project goals and objectives/outcomes.
Legal documents providing the organization's registration (in the case of NGO);
If relevant, proof of competence and previous experience in relevant activities.
HOW TO APPLY
Applications should be submitted through the email at [email protected]. Due date for applications is 28 September 2020.
Applicants that would need clarifications or need additional information about the call for proposal, are invited to send them by e-mail to: [email protected].
---
Projekat "Povećanje pristupa žena zapošljavanju" ima za cilj da odgovori na neaktivnost žena na tržištu rada na Kosovu i u Albaniji. Glavni je cilj projekta da poveća učešće žena na tržištu rada kroz zagovaranje usmereno na smanjenje rodne diskriminacije, promociju dostojnog rada i primenu rodno naklonjenih strategija, koje poboljšavaju učešće žena na tržištu rada.
Predloženo trajanje: 2 meseca
Nivoi finansiranja: Tražena finansijska podrška ne bi trebalo da pređe maksimalni iznos od 1,650 evra. Administrativni troškovi ne treba da prekorače 5% ukupnog iznosa granta.
DOKUMENTA KOJA TREBA PREDATI
Kratak predlog projekta, koji opisuje glavne ciljeve i zadatke projekta i njegove konačne rezultate;
Predloženi budžet koji će se koristiti delotvorno u skladu sa ciljevima i rezultatima projekta.
Pravni dokumenti koji svedoče o registraciji organizacije (u slučaju NVO-a);
Ako je relevantno, dokaz o kompetentnosti i prethodnom iskustvu u relevantnim aktivnostima.
KAKO DA SE PRIJAVITE
Prijave se podnose elektronskom poštom na adresu [email protected]‐ks.org. Krajnji rok za prijavljivanje je 28. septembar 2020.
Podnosioci prijave koji trebaju dodatne informacije u vezi sa predlogom za podnošenje predloga, nam mogu poslati e-mejl na [email protected]