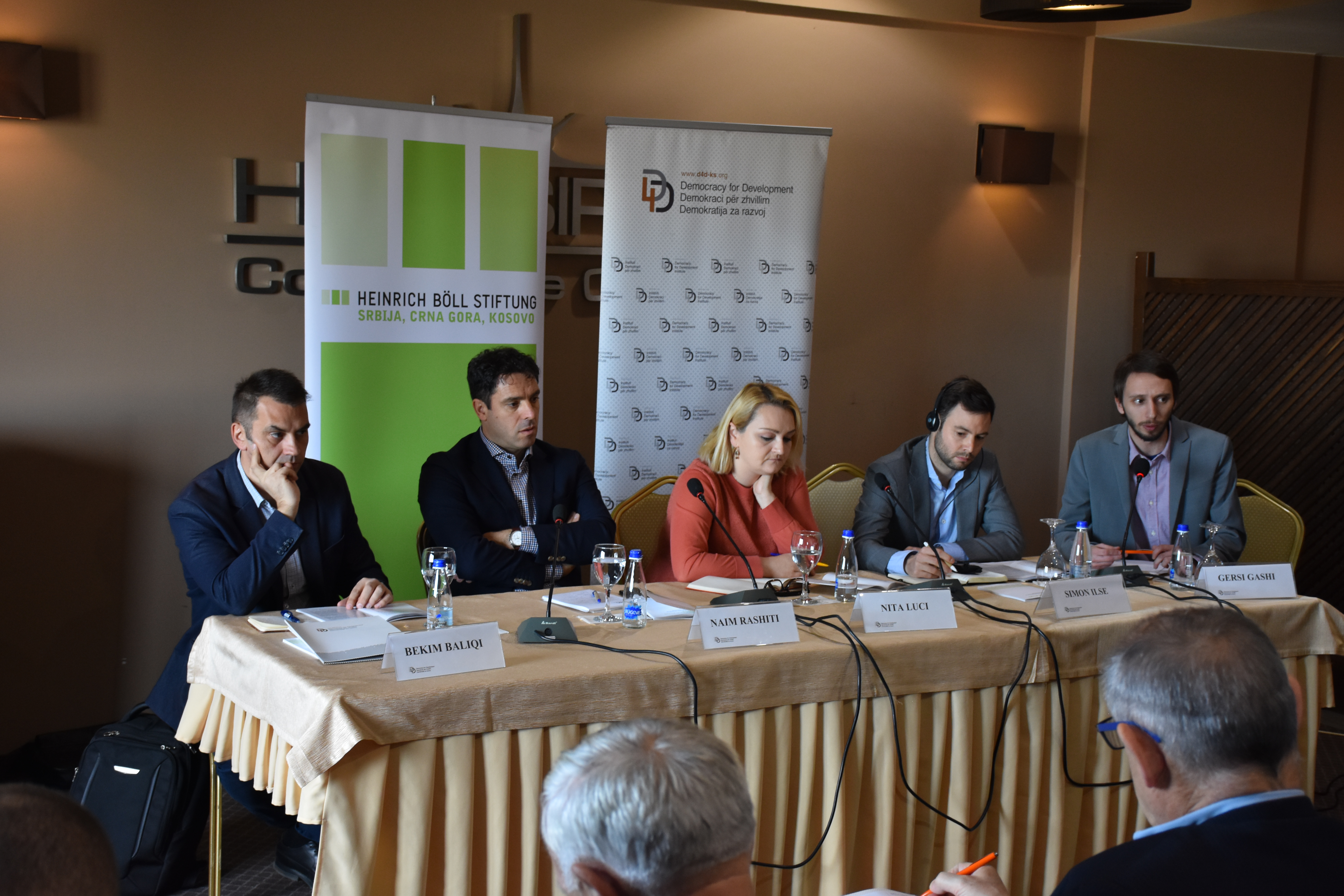 What is the story of Kosovo's statehood, ten years after independence? Starting from this very question, Democracy for Development (D4D) Institute on 29 November 2018 has launched the paper "Inception plus ten: Reviewing the First Decade of Kosovo's Statehood", which aims to provide an informed critical assessment in regard to the first decade of Kosovo's statehood, covering the institutional domain, power, and discourse. Part of the panel at the launch was Gersi Gashi, Policy Researcher, Democracy for Development (D4D); Simon Ilse, Office Director, Heinrich Böll Foundation Serbia, Montenegro and Kosovo; Nita Luci, Professor, University of Prishtina (UP); Naim Rashiti, Executive Director, Balkan Group (BPRG), and Bekim Baliqi, Professor, University of Prishtina (UP).
Along the discussion related to the published analysis, Gersi Gashi, policy researcher at D4D, pointed out that according that the same problem – unemployment and corruption – are still perceived as the main ones by Kosovo's citizens. Gashi noted that complex constellation of local and international institutions and their power and competences has been evident also in post-independent Kosovo, and policy making is still a key problem.
In his reflection to the publication, Mr. Bekim Baliqi, specified the clear discrepancy between what is being discussed in the parliament or institutional spaces, and what in reality are the citizen's problems. He, additionally emphasized the fact that the paper provides a reflection as to how, we as a society, lack in thoroughly discussing public policy.
The discussion also focused on what Mr. Simon Ilse remarked as to Kosovo's state building process, where, among other things, he pointed out that Kosovo had undergone a long journey to achieve its independence, accompanied by the efforts of the international community to transform Kosovo into a successful state. Mr. Isle also expressed the crucial need including citizens in policy and decision making processes in Kosovo.
During the launch of the paper, attention was drawn also to topics such as the beginning and end point of the transition process for Kosovo, and lack of political capacities that directly influenced Kosovo's current economic and political development, highlighted by Ms. Nita Luci and Mr. Naim Rashiti.
Participants in the launching event, throughout the discussion, raised other key issues pertaining to state building, and reached a consensus that it is still an ongoing process, where more work is needed both in the aspect of creating new mechanisms, and also using current existing mechanisms to propel democratic reforms in order to achieve consolidation.