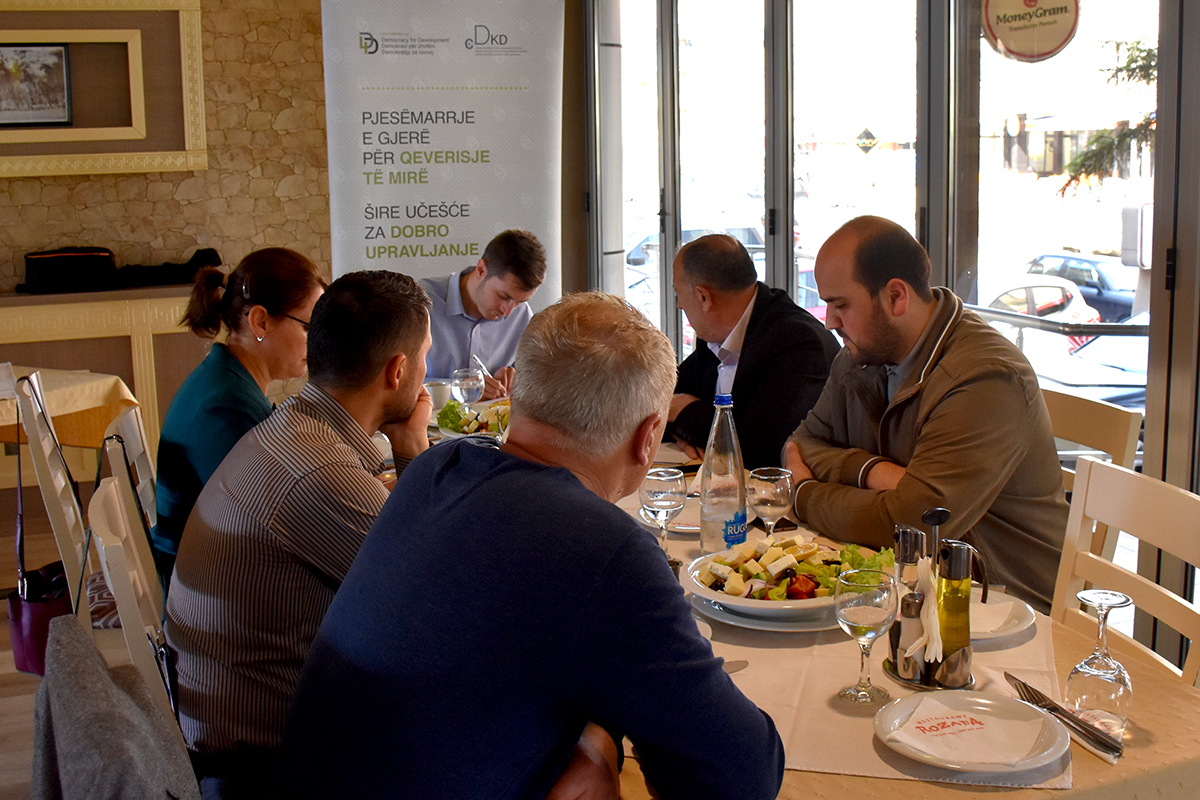 Communication inside and outside of the Municipal Assembly, cross-party cooperation in large issues for the wellbeing of the citizens they represent, Municipal project budget reviewing, as well as better organizing of village councils were some of the key topics of discussion with the chiefs of political subjects represented at the Municipal Assembly of Lipjan in the breakfast briefing held on 7th June 2019.
The purpose of these meetings is to discuss about policies of the Municipality of Lipjan to improve the principles of good governance, the work of Municipal Assembly and the cooperation between political subjects groups to push forward projects that address the demands, concerns and needs of the citizens that they represent.
A problem that exists almost in every Assembly in all Municipalities of Kosovo is the issue of using the "numbers" by the political subjects that are in power. This concern was mentioned in this meeting as well, where the municipal councilors of the opposition expressed their concern about the approval of points of the assembly agenda only because the ruling political subjects have 50% +1 representatives in the Assembly, thus discarding the concerns and complains of the opposition.
Another concerns presented was the lack of transparence in the Municipality budget used for fixing and maintenance of regional motorways that connect the Municipality of Lipjan with other Municipalities, for which the municipal councilors of the opposition stated that have requested transparence and accountability about such expenditures but they never received a clear answer by the executive body.
Aside from the abovementioned issues, the Municipality of Lipjan has achieved progress in many other aspects. The representative of Ashkali in the Municipal Assembly stated that the village with the majority of this community has had a lot of investments by the Municipality of Lipjan in the last year, by securing basic life conditions, but also by providing security and equality in the labour market, which in the past was very concerning.
All of the political subject' representatives in this meeting, aside the abovementioned issues, stated that there is a very good cooperation between political subjects inside the Assembly in greater issues that concern the wellbeing of citizens of the Municipality of Lipjan, and there are cases when the ideas proposed by the opposition delegates were taken into consideration more than those proposed by the delegates of the political subjects in position.
In the end, the guests declared their readiness to work towards the improvement of the cooperation between themselves, leaving aside their party affiliation, and together push forward the demands and needs of the citizens they represent in the Municipal Assembly of Lipjan.
These meetings are organized within the framework of the "Increased participation for good governance" project, implemented by the Democracy for Development institute (D4D) with support of the Embassy of the Netherlands in Kosovo.